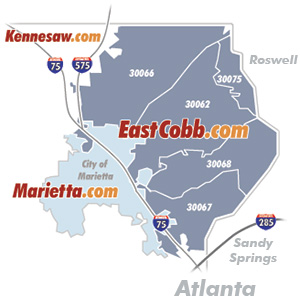 East Cobb is a community of over 170,000 residents, located in Cobb County just northwest of Atlanta. Residents of East Cobb typically have a Marietta address, but they are not within the boundary of the City of Marietta. East Cobb is an unincorporated area that is administered by the Cobb County Government.
If East Cobb was a city, it would be larger than any city in the metro area except the city of Atlanta.  The area is bordered by Cherokee County to the north, interstates I-75 and I-575, and the City of Marietta to the west and southwest, the Chattahoochee River to the southeast, and Fulton County to the east.
East Cobb High Schools
The public High Schools located in East Cobb include the highly rated Walton, Lassiter, and Pope High School districts, as well as most of the Sprayberry and Wheeler High School districts, and part of the Kell High School district.
Read more about East Cobb schools.