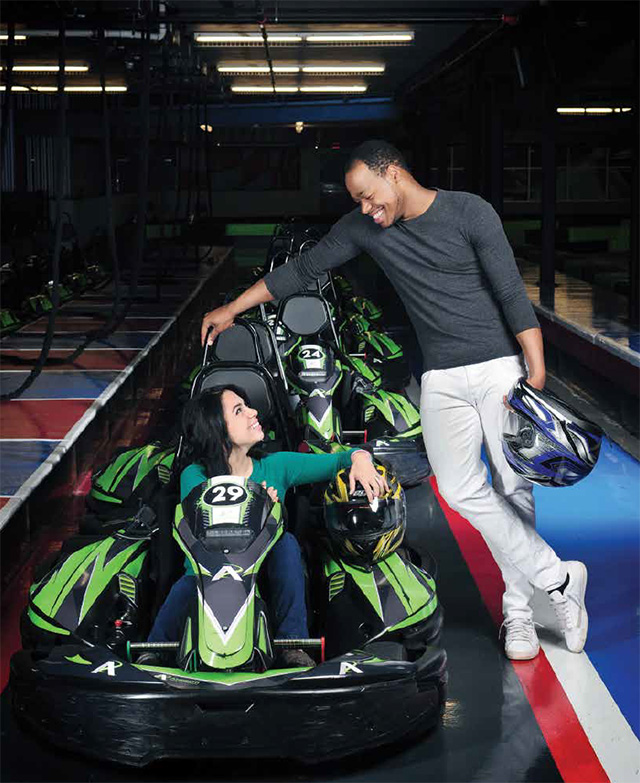 Speed's the attraction at Andretti Indoor Karting and Games in East Cobb. The 106,000-square-foot facility at 1255 Roswell Road is packed with high-speed karting, racing simulators, ropes courses, laser tag and more than 120 video and redemption games. Custom-designed by U.S. Bowling, Andretti's 12 race-themed bowling lanes feature black light and smoke effects on the simulated asphalt lanes while guests relax on leather couches.
Three tracks challenge all levels of karters. Adults with karting know-how travel the advanced track with fast electric karts. The intermediate track is designed for adults and children ages 12 to 15 with some experience. Andretti's junior track is specially designed for kids ages 8 to 11.
"Our high-speed electric karts accelerate instantly and run up to 35 miles per hour on the advanced track," says Samantha LaMagna, marketing manager. "Marietta is our prototype store for the brand, and you can't get experiences like ours anywhere else."
Andretti's also runs CXC simulators that replicate state-of-the-art machines used by the pros, which use 3D images, surround sound and vibration and motion systems to recreate feel of an actual race track. Its "XD Dark Ride" interactive movie experience in seven dimensions, complete with special effects, laser blasters and vibrant graphics.
The company's first location opened in 2000 in Roswell. The Marietta complex that opened in the fall of 2015 has upped the ante by bringing in the newest karting, simulation and gaming technology. "Each year we go to the international gaming and amusements convention in Orlando to select what we'll add to Andretti's," LaMagna says. "People can expect to see new games and arcade experiences when they come, all the latest."
Andretti Indoor Karting and Games
1255 Roswell Rd.
Marietta, GA 30062
(678) 496-9530