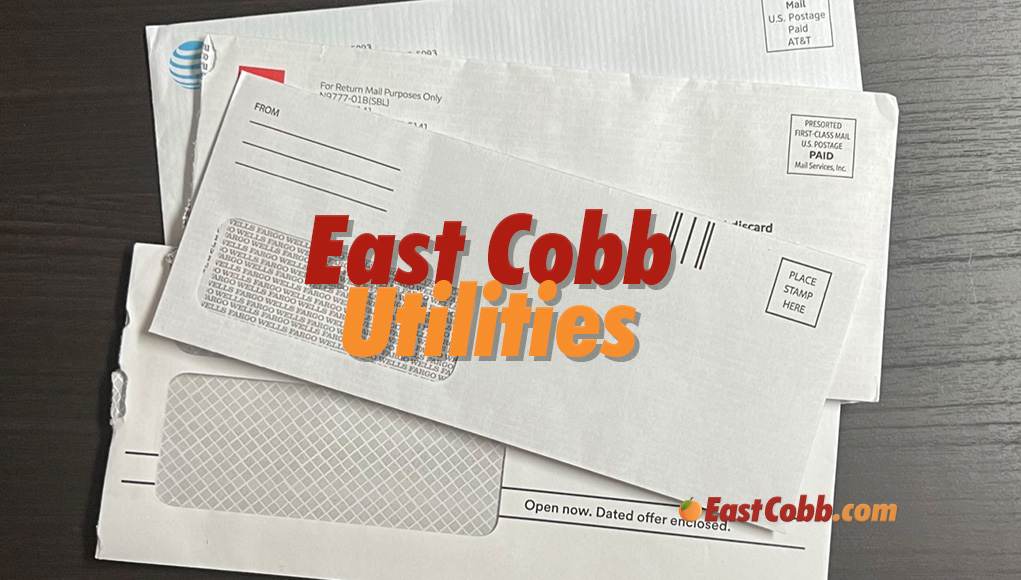 If you are moving to East Cobb, or relocating within East Cobb, you will need to establish new service or transfer service to your new address.  The information below is for those moving to a residence with a Marietta address, but living outside the Marietta City limits.  Most utilities allow you to sign up online in just a few minutes.  If you prefer to call, please note that the Metro Atlanta area utilizes 10 digit dialing utilizing both the area code and the phone number – no need to use a 1 or 0 before the area code.  The local (toll-free) area codes 770, 678, and 470 are used in East Cobb and 404 is used throughout Metro Atlanta.
The following utility companies serve all or parts of the East Cobb area:
Electricity
If you live in East Cobb, your area is likely serviced by Cobb EMC.
Cobb EMC
1000 EMC Parkway
Marietta, GA 30060
770-429-2100
CobbEMC.com
Georgia Power
888-660-5890
GeorgiaPower.com
Gas
You can pick any gas company that services your area, so be sure to research the best rates and plans. You can check the Georgia Public Service Commission (GA PSC) price charts to find the best rates.
Here are a few of the providers servicing the area:
Constellation Energy
1 (877) 677-4355
Constellation.com
FireSide Natural Gas
Inside Atlanta: (678) 872-0250
Outside Atlanta: 1 (866) 517-0250
FiresideNaturalGas.com
Gas South
(866) 563-8129
GasSouth.com
Georgia Natural Gas
(770) 850-6200
1-877-850-6200
GNG.com
Infinite Energy Inc.
Inside Atlanta: (770) 661-1870
Outside Atlanta: 1 (877) 342-5434
InfiniteEnergy.com
SCANA Energy
404-760-6200
877-GO-SCANA
ScanaEnergy.com
True Natural Gas
Inside Atlanta: (770) 502-0226
Outside Atlanta: 1 (877) 746-4362
TrueNaturalGas.com
Walton EMC Natural Gas
Inside Atlanta: (770) 267-2505 or (770) 972-2917
North Georgia: (706) 769-5622
Outside Atlanta: 1 (866) 936-2427
WaltonEMCGas.com
Xoom Energy
(855) 203-3808
XoomEnergy.com
Water
Cobb County Water System
(770) 423-1000
CobbCounty.org
Waste
American Disposal Services
(703) 368-0500
AmericanDisposal.com
Custom Disposal
(770) 977-2788
CustomDisposal.com
GFL Environmental (formerly Waste Industries)
GFLenv.com
If you live inside the City of Marietta city limits:
City of Marietta Public Works Sanitation Division
770-794-5581
MariettaGA.gov/475/Sanitation-Services
Phone
The local East Cobb area codes are 770, 678, 470, and the new 943.  You will also find that many Marietta residents have mobile phone numbers that begin with 404 – the area code now used for Downtown Atlanta.  In addition, ten digit dialing – area code plus phone number – is required for making calls.  You do not need to dial "1" before the area code and phone number when making local calls to any number in these area codes.
Google Voice
Voice.Google.com
Ooma (inexpensive landline replacement for cord-cutters)
Ooma.com/home-phone/cheap-home-phone-service
AT&T
ATT.com/home-phone/landline.html
Verizon
Verizon.com/home/phone
Comcast Xfinity
1-800-XFINITY (1-800-934-6489)
Xfinity.com/learn/home-phone-services

Don't forget to add your home and mobile phone numbers to the national Do Not Call list.
Internet
Google Fiber
Check to see if your address is eligible for Google Fiber here:
Fiber.google.com/cities/atlanta
AT&T Internet (formerly Uverse)
AT&T offers DSL throughout and faster fiber speeds for some addresses.  Check to see what is available in your area here:
Att.com/internet
(844) 886-4258
Xfinity (formerly Comcast)
1-800-XFINITY (1-800-934-6489)
Xfinity.com/learn/internet-service

Earthlink
866-383-3080
Earthlink.net/internet
TV
Netflix
Netflix.com
Amazon Prime
Amazon.com/Prime-Video
Streaming Services
Disney+, HBO's Max, Hulu.com, Paramount+, Apple TV+, Starz, ESPN+, Peacock
DirecTV Stream (formerly AT&T/Uverse)
(866) 951-6106
DirecTV.com/stream
Xfinity (formerly Comcast)
1-800-XFINITY (1-800-934-6489)
Xfinity.com
News
EastCobb.com
East Cobb's Online Magazine and City Guide covers East Cobb events, attractions, and stories related to East Cobb, Georgia.
EastCobb.com
Marietta Daily Journal (MDJ)
Founded in 1866, the Marietta Daily Journal has a daily circulation of 13,300 copies and covers Marietta and Cobb County as well as national and international stories.
MDJOnline.com
Atlanta Journal & Constitution (AJC)
Founded in 1868 as the Atlanta Constitution, the AJC covers Downtown Atlanta and the metro region with a daily newspaper.
AJC.com