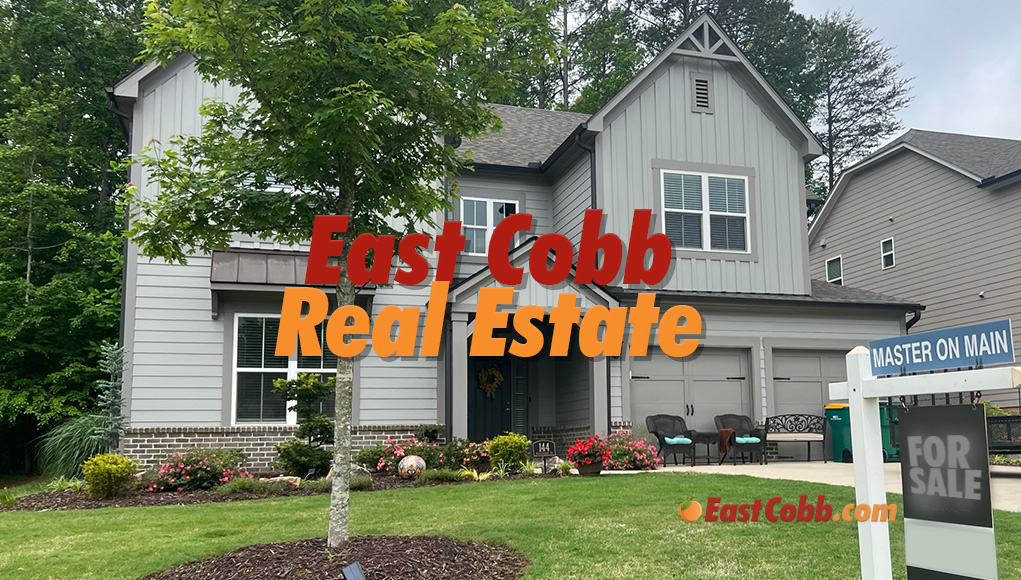 East Cobb is one of the most desirable locations to live, work, and raise kids in the metro area.  Great schools combined with close proximity to interstates 75 and 285, along with low crime rate and low taxes are just some of the numerous benefits of living in the East Cobb area.
Money magazine named East Cobb Georgia's best place to live.  Schools rank among the best in the state, and Downtown Atlanta is just a short drive away.  In addition, the proximity to interstates I-75 and I-285 makes it easy to move around the metro area.
There are numerous parks and recreation areas throughout East Cobb, including a national battlefield park near the historic downtown Marietta Square, and a national recreation area along the Chattahoochee River.
Cobb County is also home to the Atlanta Braves, and their new ball park features a mixed-use area surrounding the stadium that includes numerous restaurants, shops, hotels, and concert venues.
East Cobb is an unincorporated area in northeast Cobb County, and most homes in the area have a Marietta address, though East Cobb is located outside the Marietta City limits.   East Cobb includes the unincorporated portions of Cobb County north of I-285 and east of I-75 and I-575.
If you are thinking about moving to the area, here are some key advantages to buying a home in East Cobb:
Strong Property Values: East Cobb is known for its desirable neighborhoods and high-quality homes, which tend to hold their value well and often increase over time. The area's reputation for excellent schools, low taxes, safe neighborhoods, and convenient amenities contributes to the stability (and appreciation) of property values.
Excellent School Districts: East Cobb is renowned for its top-rated schools, which attract families seeking quality education for their children. Properties located within the most highly regarded school districts often experience increased demand and can be a significant factor in property value appreciation.
Desirable Location: Situated in Cobb County, East Cobb offers convenient access to major highways, making it an attractive location for commuters. Its proximity to Downtown Atlanta provides easy access to employment opportunities, cultural attractions, and entertainment options while maintaining a suburban feel.
Recreational Opportunities: East Cobb features an abundance of parks, recreational areas, and outdoor activities. Residents can enjoy a variety of amenities, such as hiking trails, sports fields, and recreation centers, promoting an active and healthy lifestyle.
Community Spirit: East Cobb fosters a strong sense of community with various neighborhood events, festivals, and community organizations. Residents often form close-knit bonds, creating a supportive and engaging environment for families.
Diverse Housing Options: East Cobb offers a range of housing options to suit various preferences and budgets. From single-family homes to townhouses, condos, and active adult communities, there are choices for first-time buyers, growing families, and downsizing homeowners.
Well-Maintained Neighborhoods: The East Cobb community takes pride in maintaining clean, well-kept neighborhoods. Homeowners and neighborhoods contribute to the upkeep of their properties, resulting in aesthetically pleasing surroundings and a sense of pride in the community.
Amenities and Services: East Cobb provides a wealth of amenities and services, including numerous shopping centers, great restaurants, top-notch healthcare facilities, and a variety of recreational venues. Residents have convenient access to daily necessities and entertainment options within close proximity.
These benefits contribute to the desirability and long-term value of residential real estate in East Cobb, making it an appealing opportunity for those seeking a quality living environment with strong property values.