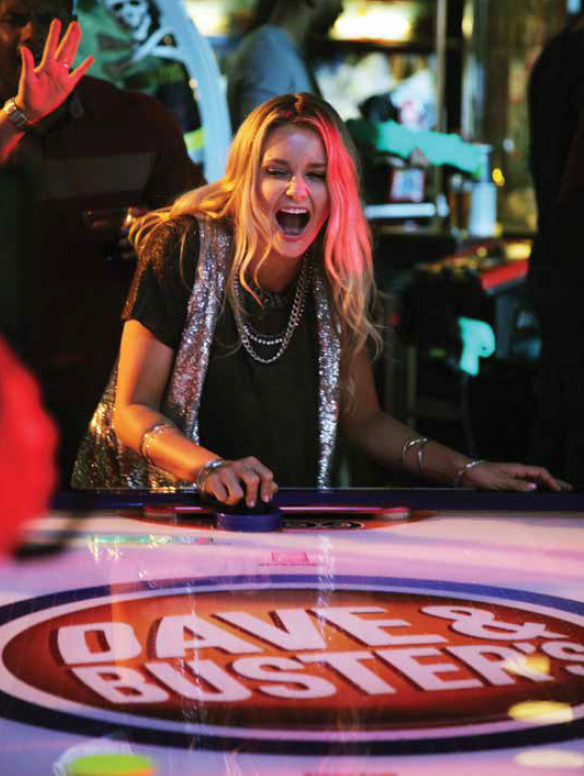 Dave & Buster's is an entertainment destination that offers a unique combination of dining, arcade games, and sports viewing experiences. Located in Marietta just minutes from East Cobb, this popular establishment is known for its vibrant atmosphere and variety of entertainment options.
Upon entering Dave & Buster's, guests are greeted by a lively ambiance filled with the sights and sounds of arcade games and sports events playing on multiple screens. The vast arcade area is a major draw, featuring a diverse selection of games, from classic favorites to the latest cutting-edge experiences. Visitors can test their skills, win tickets, and redeem them for exciting prizes at the Winner's Circle.
As one of the first indoor entertainment destinations in Cobb, Dave & Busters in Marietta was the company's fourth facility in the nation. Opened in 1992, Dave & Busters has continued to update its technology and activities. In 2012, it added a sports viewing area with three 180-inch high-definition televisions, 10 90-inch screens and eight 80-inch screens. It was part of a $3 million renovation and expansion.
"We've broadened our theme line from 'Eat, Drink and Play' to 'Eat, Drink, Play and Watch Sports,' and we really have become a favorite spot for people to watch all kinds of sports," says Cory Kersh, assistant general manager. "We'll have plenty of activities around events like the Super Bowl, and we like it when groups come in to watch their favorite teams with us."
Kersh says that the largest draw continues to be for the Dave & Busters game room. "With 120 playing stations, a full-service bar and seating for 100, the game room is always the center of activity." The company offers a number of games that originated as mobile apps, including Angry Birds, Candy Crush, Doodle Jump and Fruit Ninja.
In addition to the arcade, Dave & Buster's Marietta includes a restaurant, providing an ideal spot for sports enthusiasts to catch their favorite games while enjoying delicious food and drinks. The menu offers a wide array of mouthwatering dishes, ranging from classic pub fare to innovative culinary creations.
The venue is a popular choice for family outings, group gatherings, and even corporate events. Its spacious layout and versatility make it an excellent choice for hosting birthday parties, team-building activities, and other special occasions.
If you are looking to challenge your friends to arcade games, cheer on your favorite sports teams, or savor delectable food and drinks, Dave & Buster's Marietta is the perfect destination for a fun-filled day or night out. So, gather your friends and family, and head over to Dave & Buster's for an unforgettable entertainment experience just minutes from East Cobb.
Dave & Busters
2215 D&B Drive
Marietta, GA 30067
Phone:
(770) 951-5554
Online:
DaveAndBusters.com/Marietta