East Cobb is home to numerous public parks with hundreds of acres of land and uses ranging from ball fields and playgrounds to nature preserves and even off-leash dog parks. Parks are free to use and open to the public from dusk to dawn.
East Cobb Parks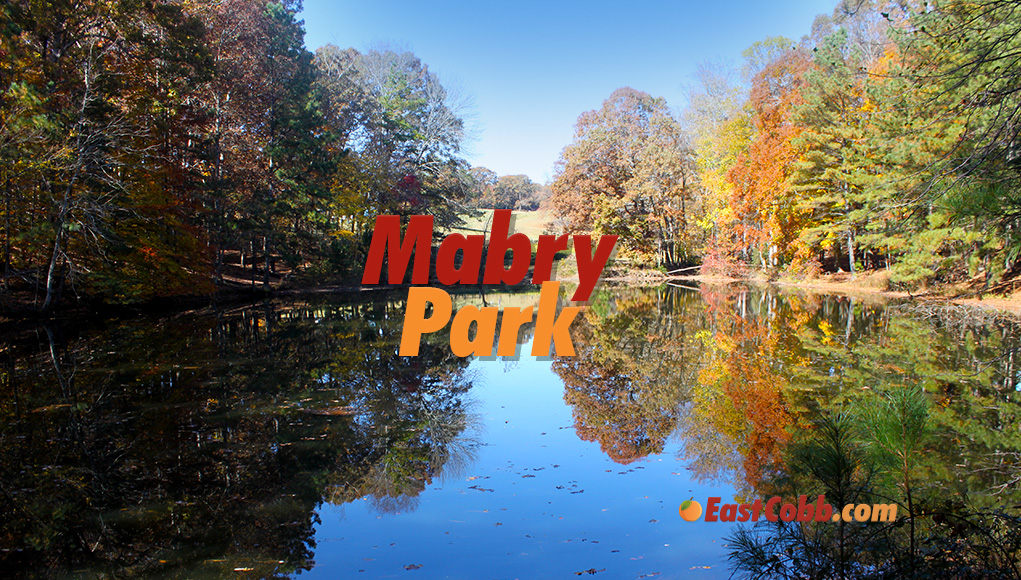 Mabry Park opened on May 2, 2019 and is East Cobb's newest and one of the largest parks, with 26.5 acres of beauty. The park features a playground, walking trails, community garden, pavilions, and plenty of trees and open meadows. The park also has a lake with an overlook bridge, a natural wetland area, and a wildlife habitat.   The picnic areas are equipped with tables and grills, making them an ideal location for a family picnic or gathering. Open year-round, Mabry Park is a great place for people of all ages to enjoy outdoor activities and spend time with friends and family.
More…
East Cobb Park is a public park featuring numerous amenities, including playgrounds, picnic pavilions, walking paths, fields, scenic bridges, creek overlooks, an outdoor classroom, and an outdoor stage. The current large loop walking trail is 0.33 miles.  The park covers over 20 acres and is open to visitors year-round. The park also hosts several community events throughout the year including outdoor concerts, holiday celebrations, and festivals.
More
Hyde Farm is a 135-acre farm located in East Cobb, situated just off Lower Roswell Road. The farm dates back to the 1830s and remained active as a farm until 2009. Today, the land, buildings, and farm have been preserved as an educational and recreational facility, providing visitors with an opportunity to learn about the area's agricultural history while enjoying a variety of outdoor activities.  Named "one of the great treasures of Cobb County" by Cobb County Commissioner Bob Ott, "the drive down scenic Hyde Road cannot prepare you for your journey back in time. As you walk along the terrace gardens past the old farmhouse, or drink from the working well, it is hard to imagine that just a short distance away is East Cobb. It is hard to imagine long ago when all of East Cobb was like Hyde."  Hyde Farm's vast acres offer a vital habitat for wildlife, including foxes, coyotes, deer, songbirds, beavers, and other species.  Hyde Farm Park is managed by the National Park Service and is part of the Chattahoochee River National Recreation Area.
More
Chattahoochee River National Recreation Area
The Chattahoochee River National Recreation Area is a protected area with a span that separates East Cobb to the east from Fulton County. The park covers 48 miles of the Chattahoochee River, stretching from the Buford Dam to the city of Atlanta. The park was established in 1978 to preserve the natural beauty and cultural heritage of the river, and offers abundant opportunities for outdoor activities, scenic beauty, and wildlife encounters.
More
Shoot the 'Hooch: Tubing on the Chattahoochee River
Nestled in the heart of East Cobb, the Chattahoochee River beckons adventure seekers to "Shoot the Hooch" – a cherished pastime synonymous with tubing down this picturesque waterway. This exhilarating outdoor experience offers a refreshing escape from the summer heat, inviting locals and tourists to indulge in a leisurely float along the cool tranquil currents.
Read More…
Fullers Park and Fullers Recreation Center
Fullers Park includes two picnic pavilions, a playground, four tennis courts, five baseball fields, a baseball/football field, a football/soccer field, three concession buildings, as well as batting cages.
Fullers Recreation Center includes a gym with 1 regulation size basketball court, a dance room, a conference room, a caterers kitchen, and a training room.  Fullers also offers seven weeks of summer camps with themes like Survivor, Amazing Race, Talent Show, Gaming, Foodies, and more. In addition, the rec center is available to rent for events such as children's birthday parties, team meetings, study groups, and homeowner association meetings.
3499 Robinson Road, Marietta GA 30068
(770) 591-3160 (Park and Picnic Pavilion info)
(770) 509-2737 (Fullers Recreation Center)
Harrison Park and Harrison Tennis Center
Harrison Park is home to a picnic pavilion, three playground areas, two concession buildings, seven baseball fields, batting cages, and is home to Harrison Tennis Center.
Harrison Tennis Center is a public tennis facility located in East Cobb. The center is situated within Harrison Park and offers a range of tennis programs and amenities for players of all ages and skill levels.
Some of the amenities available at Harrison Tennis Center include:
16 lighted hard courts
Tennis lessons and clinics for adults and juniors
USTA league play and tournaments
Pro shop selling tennis equipment and apparel
Stringing services
Ball machine rental
Tennis court rental for individuals and groups
The center also hosts various events throughout the year, including summer tennis camps, social mixers, and numerous tournaments.
Harrison Tennis Center is open from 9 am to 10 pm Monday through Friday, 9 am to 6 pm Saturday, and 11 am to 6 pm on Sunday.  The center is a popular destination for tennis enthusiasts in the area and has a reputation for well-maintained courts and friendly staff.
2653 Shallowford Road NE, Marietta, GA 30066
(770) 591-3151 (Harrison Tennis Center)
(770) 591-3160 (Harrison Park)
Mount Bethel Park
1 Baseball field, Batting cages, Concession building
4777 Lower Roswell Rd, Marietta 30067
(770) 591-3160
Sandy Plains Park
Playground, 4 Softball fields, Batting cages, Concession building
2977 Gordy Parkway NE, Marietta GA 30066
(770) 591-3160
Sewell Park
Amenities at Sewell Park include a picnic pavilion, Playground, 5 Baseball fields, 2 Concession buildings, 3 Baseball fields, 4 Tennis courts, Batting cages, Outdoor swimming pool, Walking trail
2055 Lower Roswell Road, Marietta GA 30067
(770) 591-3160
Shaw Park
At Shaw Park, you will find 5 Baseball fields, Batting cages, 4 Tennis courts, Multi-purpose court, 2 Picnic Pavilions, 2 Playgrounds, Concession building, Northeast Cobb Community Center adjacent to park)
900 Shaw Park Road, Marietta GA 30066
(770) 591-3160
Skip Wells Park
Skip Wells Park (Formerly Bells Ferry Park) is open daily from sunrise to sunset, and admission is free. The park is a popular destination for families, sports teams, and anyone looking to enjoy the great outdoors.  Some of the amenities available at Skip Wells Park include:
1 Picnic Pavilion , 2 Playgrounds, 4 Tennis courts, 4 Softball fields, 2 Concession buildings, 2 Batting cages
2334 Bells Ferry Road, Marietta GA 30066
(770) 591-3160
Sweat Mountain Park
Sweat Mountain Park includes 3 Baseball fields, Batting cages, 2 Practice fields, 4 Tennis courts, Playground, Picnic pavilion, Concession building, Dog Park. The off-leash dog park includes an area for large dogs and an area for smaller dogs weighing 30 lbs. or less.
Open daily dawn until dusk
Closed each Wednesday morning for maintenance
4346 Steinhauer Road, Marietta GA 30066
(770) 591-3160
Terrell Mill Park
2 Picnic pavilions, Playground, 4 Softball fields, Terrell Mill Tennis Center (8 courts), Concession building, Soccer field
480 Terrell Mill Road, Marietta GA 30067
(770) 591-3160
Wright Environmental Education Center
The Jean & Elwood Wright Environmental Education Center includes nineteen acres of protected land, with a wide selection of plants native to Georgia. Walking trails throughout the property allows many opportunities for students, teachers, and the community to study diverse flora and fauna.  The center's mission is to inspire environmental stewardship and to promote a deeper understanding and appreciation of the natural world through education and engagement.  The park is open only for scheduled visits, not daily public access, and parking is available on Post Oak Tritt Road next to the Chestnut Ridge Christian Church.
2661 Johnson Ferry Road, Marietta GA 30062
(770) 528-8825
cobbmastergardeners.com/project/wright-environmental-education-center
cobbcounty.org/parks/parks-and-nature/outdoor-education
Cochran Shoals off Columns Drive
There is a parking lot at the end of Columns Drive, and a walking/hiking/running/biking trail that follows the Chattahoochee river and then loops back. The trails at Cochran Shoals are part of the larger trail network in the Chattahoochee River National Recreation Area and connect to other popular areas such as Sope Creek to the north and Cochran Shoals Trail to the south.  See the linked map below for more trails and options.
152 Columns Dr, Marietta, GA 30067
(678) 538-1200
nps.gov/chat/planyourvisit/maps.htm
Near East Cobb
Kennesaw Mountain National Battlefield Park
Kennesaw Mountain National Battlefield Park is a 2,965-acre park in Cobb County that preserves a Civil War battleground of the Atlanta Campaign. The park includes three battlefield areas: Cheatham Hill, Kolb's Farm, and the main battlefield at Kennesaw Mountain. It features 18 miles of interpretive walking trails, a visitor center with museum exhibits, and a Civil War-era farm.  Hike to the top of Kennesaw Mountain for a fantastic view of the surrounding area, including Downtown Atlanta. Cars can drive to the top on weekdays, and a shuttle to the top is available on weekends.
Read More…
Chattahoochee Nature Center
The Chattahoochee Nature Center is a nonprofit environmental education facility located just across the border from East Cobb in Roswell. The center is situated on 127 acres along the Chattahoochee River and features nature trails, gardens, wildlife exhibits, and a variety of educational programs for all ages.
The Chattahoochee Nature Center's mission is to connect people with nature and to promote the conservation of natural resources. The center offers a range of educational programs for children and adults, including guided nature walks, bird watching, wildlife rehabilitation, and environmental sustainability workshops.
The center also features several exhibits showcasing the native flora and fauna of the Chattahoochee River watershed. These exhibits include live animal displays, such as owls, hawks, and reptiles, as well as interactive displays that educate visitors about the ecology and natural history of the region.
In addition to its educational programs and exhibits, the Chattahoochee Nature Center also offers a variety of recreational activities for visitors, including canoeing and kayaking on the Chattahoochee River, as well as hiking and bird watching on the center's nature trails.
The Chattahoochee Nature Center is a wonderful destination for anyone interested in environmental education, wildlife conservation, and outdoor recreation. With its beautiful natural setting, engaging exhibits, and diverse programming, it is a must-visit destination for anyone visiting East Cobb.
9135 Willeo Rd, Roswell, GA 30075
chattnaturecenter.org
(770) 992-2055
Vickery Creek Falls and Roswell Mill
Bring your camera to this hidden gem in nearby Roswell. The area features ruins of the old Roswell Mill built in the early 1800's as well as a waterfall, hiking trails, and a covered bridge for hikers.
Vickery Creek Falls at Roswell Mill is a popular historic and natural landmark. The falls are part of the Chattahoochee River National Recreation Area and are situated on the site of the Roswell Manufacturing Company, a textile mill that operated during the 19th century.
The falls themselves are a series of cascades that drop about 30 feet over a rocky outcrop in Vickery Creek. Visitors can access the falls via a short hike along the Vickery Creek Trail, which follows the creek and provides views of the falls and the ruins of the old mill.
In addition to the falls and the mill ruins, the Vickery Creek Trail also passes through a beautiful forested area and offers opportunities for hiking, wildlife viewing, and photography. The trail is a relatively easy hike, suitable for visitors of all ages and abilities.
The site of the Roswell Manufacturing Company and the Vickery Creek Falls played an important role in the history of Roswell and the region. The mill was one of several textile mills that operated along the Chattahoochee River during the 19th century, and it was a major economic force in the area. Today, visitors can learn about the history of the mill and the role it played in shaping the region's economy and society.
The Vickery Creek Falls at Roswell Mill is a beautiful and historic destination that gives visitors a chance to explore the natural beauty and rich history of the Roswell area just minutes from East Cobb.
95 Mill St, Roswell, GA 30075
(770) 641-3705
Morgan Falls Overlook Park
Morgan Falls Overlook Park is a 30-acre park located just east of East Cobb in Sandy Springs. It features a scenic overlook of the Chattahoochee River, picnic areas, a playground, a boat dock, and hiking trails. The park is popular for outdoor activities such as fishing, kayaking, stand up paddleboarding, canoeing, and hiking, and it hosts events such as concerts and festivals throughout the year.
200 Morgan Falls Rd
Sandy Springs, GA 30350
sandyspringsconservancy.org
(770) 730-5600
Nestled in the charming city of Acworth just north of East Cobb, Lake Acworth stands as a picturesque oasis, captivating visitors with its tranquil waters and scenic surroundings. This stunning lake is a hidden gem, offering a perfect retreat for those seeking respite from the hustle and bustle of everyday life. With its inviting beaches, a plethora of recreational activities, and abundant natural beauty, Lake Acworth beckons nature enthusiasts and adventure seekers alike to bask in its serene ambiance and create lasting memories.
Read More…
Lake Allatoona is a stunning reservoir located just north of East Cobb. Spanning over 12,000 acres, this picturesque lake offers a wide array of activities for families to enjoy. With its sparkling waters and scenic surroundings, Lake Allatoona is a popular destination for outdoor enthusiasts and nature lovers.
Read More…
The Silver Comet Trail is a true gem for outdoor enthusiasts and nature lovers alike. Spanning over 61 miles, this multi-use trail offers an exhilarating journey through picturesque landscapes, charming communities, and lush greenery. From cyclists to hikers and runners, the Silver Comet Trail beckons adventurers of all ages to embark on a expedition filled with beauty, serenity, and opportunities for exploration.
Read More…