East Cobb is home to numerous grocery stores that cater to all different tastes.  With 8 locations each, Publix and Kroger are the most common grocery stores in the area.  Publix is a southeastern chain of grocery stores with over 1000 locations across the southeast, known for their made-to-order deli sub sandwiches and southern fried chicken.  Kroger is a larger chain with over 2000 locations nationwide, known for their loyalty program and low prices.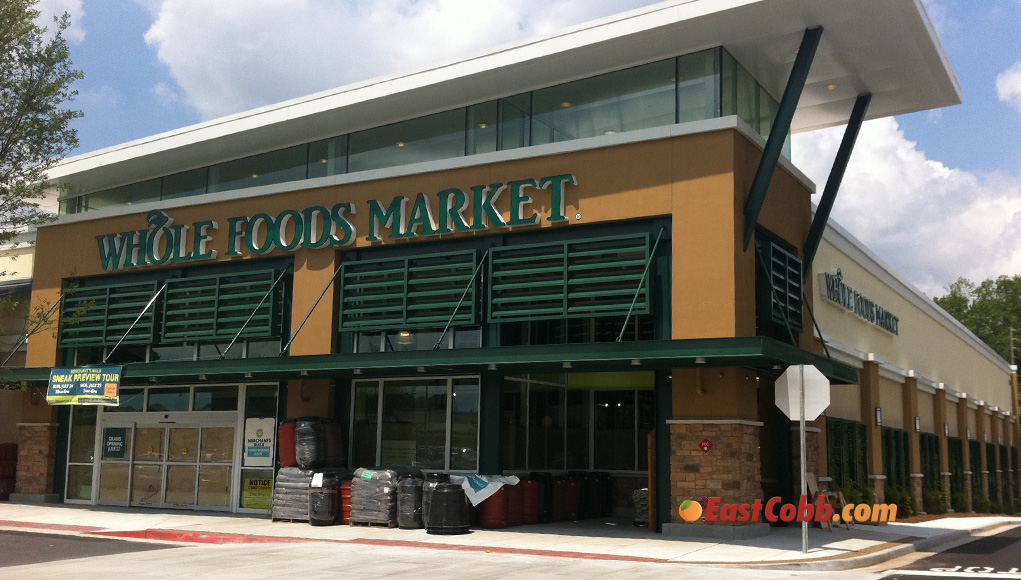 Also located in East Cobb are the ever popular Trader Joes, Whole Foods, and Sprouts Farmers Market – all with a focus on quality produce, tasty prepared items, and natural and organic options.  Additional chain grocery options in East Cobb include Target Grocery, Walmart, Walmart Neighborhood Market, Lidl, and ALDI.  There are also nearby locations of Costco, Sam's Club, and BJ's wholesale clubs.
In addition to the extensive national brand grocery stores, East Cobb is home to numerous local businesses offering markets with specialty food and drinks.  Notable shops offering specialty meats and prepared foods (some with wine bars) include Cleaver and Cork, New York Butcher Shop and Wine Bar, Cajun Meat Company, Heywoods Provision Company, and Olea Oliva!
Cleaver and Cork
Woodlawn Point Shopping Center, 1062 Johnson Ferry Rd, Marietta, GA 30068
(678) 402-6996
CleaverAndCork.net
New York Butcher Shop and Wine Bar
Avenue East Cobb Shopping Center
4475 Roswell Rd #1030, Marietta, GA 30062
(770) 575-1607
NYButcher.com
Cajun Meat Company
2211 Roswell Rd Suite 150, Marietta, GA 30062
(770) 321-4300
CajunMeatCompany.com
Heywoods Provision Company
2145 Roswell Rd #140, Marietta, GA 30062
(404) 410-7997
HeywoodsMeat.com
Olea Oliva!
Olive oils and balsamic vinegar taproom, with gourmet spices, cooking accessories, wine, craft cocktail kits, tea, honey, baking mixes, cosmetics, gifts, and more.
Avenue East Cobb
4475 Roswell Rd, Marietta, GA 30062
(770) 971-9945
OleaOliva.com
East Cobb is also home to several European markets and delis including Bernhard's, The Queens Pantry, and the European Deli.
Bernhard's German Bakery & Deli
Minutes from East Cobb – Bernhard's features fresh sandwiches, deli items, breads, pretzels, pastries, cakes, German groceries, and seasonal Stollen.
1592 Atlanta Rd SE Marietta, GA 30060
(770) 218-1153
BernhardsGermanBakery.com
The Queens Pantry
Specializing in British and Commonwealth foods and gifts.
4235 Merchants Walk Dr #130, Marietta, GA 30068
(678) 483-0900
TheQueensPantry.com
European Deli
Offering fresh breads, prepared foods, and other Russian and European specialties.
3101 Roswell Rd, Marietta, GA 30062
(770) 693-9409
Yelp.com
Suvidha Indo-Pak Groceries, Shivam Groceries, Vatan, and Nazareth offer Indian, Pakistani, and Middle Eastern groceries and fresh produce in East Cobb.
Suvidha Indo-Pak Groceries
2821 Chastain Meadows Pkwy NW, Marietta, GA 30066
(770) 419-7112
SuVidhaOnline.com
Shivam Groceries
1812 Lower Roswell Rd, Marietta, GA 30068
(770) 971-7448
ShivamGroceries.com
Vatan International Grocery
Offering Middle Eastern groceries, including baked goods like baklava, pita, along with many Persian specialties.
Near the Aldi grocery store in East Lake Shopping Center
2145 Roswell Rd #20, Marietta, GA 30062
(770) 578-4235
Yelp
Nazareth Grocery
Mediterranean and Middle Eastern groceries, meats, cheeses, hookahs, gifts, and more.
585 Franklin Gateway SE Suite B-2, Marietta, GA 30067
(770) 795-9026
NazarethGrocery.com
Rick's Farmers Market offers fresh local produce and seasonal items, Taih offers Afro-Caribbean items, and Tomato offers a selection of Japanese items.
Rick's Farmers Market
Offering fresh local produce, meat, local prepared foods, deli items, and seasonal items including pumpkins, firewood, and Christmas trees.
3760 Roswell Rd, Marietta, GA 30062
(770) 977-3031
Yelp.com
Taih Tropical Food Market
Afro-Caribbean grocery store
East Marietta Commons Shopping Center
1477 Roswell Rd Suite 250, Marietta, GA 30062
(404) 300-9439
TaihTropicalFoodMarket.com
Tomato Japanese Grocery Store
Offering a large selection of Japanese produce, fish, snacks, and more.
2359 Windy Hill Rd SE Suite 250, Marietta, GA 30067
(770) 933-0108
TomatoStoreUS.com
Just beyond East Cobb but still in Cobb County, you can find even more groceries and markets with food and items from around the world.
Austell International Farmers Market
Austell International Farmers Market is a large indoor grocery store with a huge variety of produce, as well as fresh meats & seafood, and a wide selection of international products.
3565 Austell Rd SW, Marietta, GA 30008
(770) 726-7672
Facebook.com/AustellFarmersMarket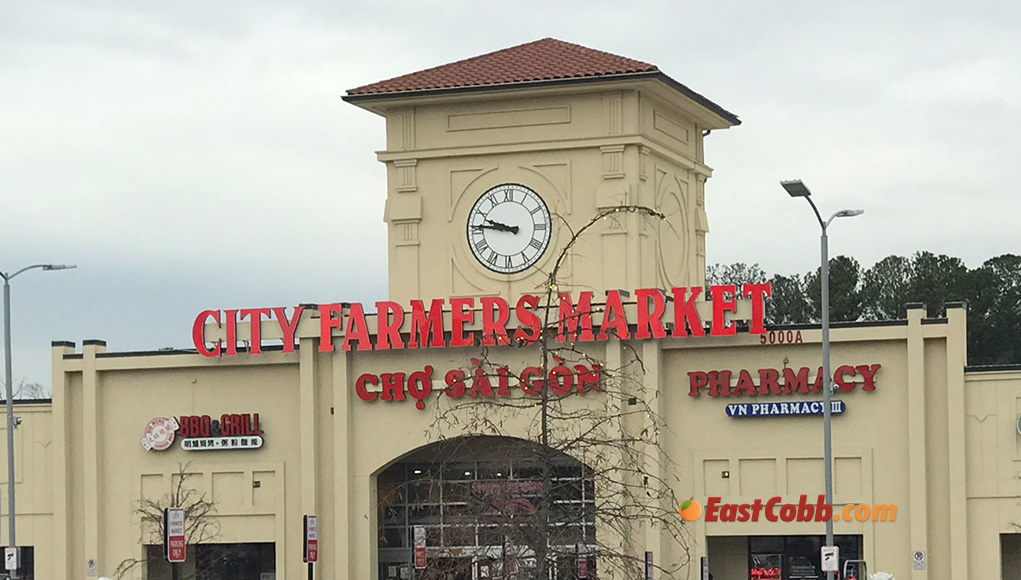 City Farmers Market
City Farmer's Market offers a wide selection of fresh produce, meats and live seafood, as well as an international selection of groceries.  There are 6 locations throughout metro Atlanta, with the closest location being in Marietta.
1167 Power Springs St, Marietta, GA 30064
(770) 694-1000
CityFarmers.Market
Patel Brothers
Patel Brothers is the largest Indian supermarket chain with 52 stores across the United States (3 in metro Atlanta), offering food that focuses on flavors and foods from the Indian sub-continent and throughout the Middle East.  Patel Brothers is a popular destination for those seeking authentic Indian ingredients and products. They also have a wide array of produce, spices, grains, flours, snacks, and fresh and frozen goods.
2646 George Busbee Pkwy NW, Kennesaw, GA 30144
(943) 888-5868
PatelBros.com
Nam Dae Mun Farmers Market
With 8 locations in the metro Atlanta Area, Nam Dae Mun is the most prolific (and perhaps coldest) international grocery store in the area.  It features a variety of Asian, Hispanic, and international foods, including fresh produce, seafood, meat, and pantry staples.
There are two locations in Cobb County near East Cobb:
2350 Spring Rd SE, Smyrna, GA 30080
(678) 309-0007
2148 S Cobb Dr SE, Smyrna, GA 30080
(678) 385-4950
NDMMarket.com
If you can't find what you need at any of these Cobb County grocery stores, the greater Atlanta area includes an additional selection of amazingly diverse specialty and international grocery stores and markets.  One of the largest is Buford Highway Farmer's Market.
Buford Highway Farmers Market
For the largest variety of international groceries, be sure to visit Buford Highway Farmers Market – a 100,000 square foot indoor climate controlled grocery store.  Despite calling itself a farmers market, the Buford Highway Farmers Market is organized like a traditional grocery store with shopping carts and check-out lanes at the front of the store.  The isles are organized by country of origin, from American to Chinese, Indian, Caribbean, Eastern European, Japanese, British, South American, and more.  About 71 countries from locations all over the world are represented at Buford Highway Farmers Market.  Some of the fresh prepared items include breads and pastries, corn tortillas, chicharrones, kimchi, half-sour pickles, desserts, soups, dumplings, and much more –  including a small food court at the front of the store located just outside the checkout area. The produce section contains all of the usual produce as well as a huge selection of international fruits, vegetables, and fresh herbs.  In fact, the produce section contains over 400 types of fruits and vegetables, many of which are not usually found in a typical grocery store.  In addition, they have one of the largest seafood departments in the metro area with a selection including fresh tilapia, shark, live crawfish, and much more.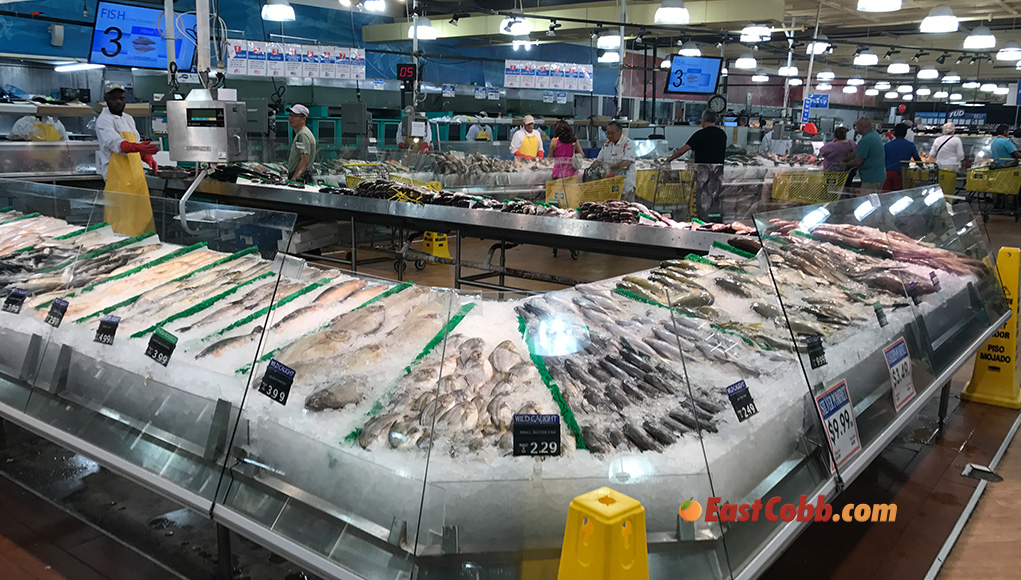 Located about 30 minutes away from East Cobb.
Buford Highway Farmers Market
5600 Buford Hwy NE, Doraville, GA 30340
(770) 455-0770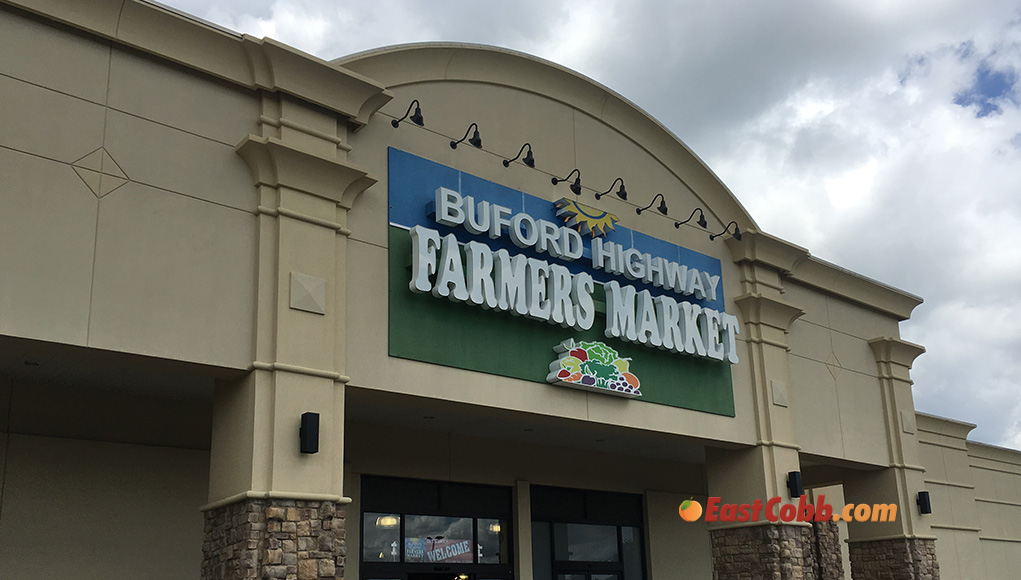 If you are looking for a more typical outdoor farmers market with numerous venders, we recommend the Marietta Square Farmers Market that takes place every Saturday morning near Marietta Square.
Other notable large markets and grocery stores in the metro Atlanta region include:
Atlanta State Farmers Market
With a sprawling expanse of 150 acres, the Atlanta State Farmers Market is one of the largest produce markets in the world. Unveiled to the public in January 1959, this market has been called the "World's Largest Roadside Fruit and Vegetable Stand".
16 Forest Parkway Forest Park, GA 30297
(404) 675-1782
agr.georgia.gov/state-farmers-markets
Cherians International Groceries
Cherians International Groceries is a Indian specialty grocery store with 3 locations throughout Metro Atlanta.  They offer a wide range of international food products, ingredients, and spices.
2255 Callaway Ct, Cumming, GA 30041
(770) 888-4141
Cherians.com

H Mart
H Mart is the largest Korean supermarket chain in America with 97 stores across the United States (5 in metro Atlanta).  They offer a full line of Korean and Asian foods as well as a broad range of Western groceries and an in-store food hall.
6035 Peachtree Rd bldg b, Doraville, GA 30360
(770) 986-2300
HMart.com
Jusgo Supermarket
Jusgo is an Asian supermarket with a huge selection of produce, meat, seafood,
and Chinese and Asian products.
3875 Venture Dr, Duluth, GA 30096
(678) 809-6888
Yelp
Mega Mart
Mega Mart is a two level grocery store featuring Korean groceries and supplies.  Specialties include kimchi, dumplings, fresh produce, baked goods, cooking supplies and tools, and a food court.
2106 Pleasant Hill Rd, Duluth, GA 30096
(770) 817-6400
MegaKFood.com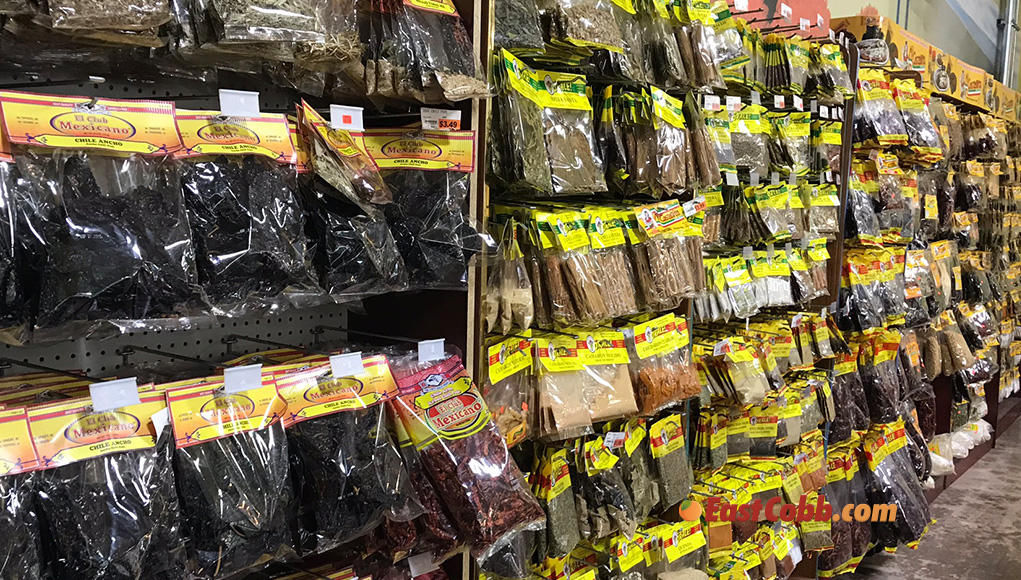 Supermercado Chicago
Supermercado Chicago is a large Hispanic grocery store with a highly rated taqueria at the back of the store serving carnitas tacos, tamales, fried quesadillas, and more.
5263 Buford Hwy NE, Doraville, GA 30340
(770) 452-1361
Yelp.com
These are just a few examples, and there are many more specialty and international grocery stores and markets throughout the metro Atlanta area. Exploring these stores can be a delightful experience for food enthusiasts looking for new foods to try or for those seeking hard to find ingredients for their favorite international dishes.